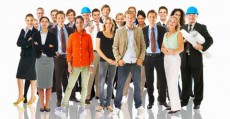 It's never too late!
A career change can be made at any time. People of all ages consider changing their career. Education has now become so flexible that you can retrain at any stage – and do it part-time in most cases.
"Am I the only one who is not happy in their career? Help me change my career!"
You are not alone!
The vast majority of adults will change job on average four times in their life, sometimes involving major career changes. So it is now a normal step. Andrée has put supports and structures in place to help you do just this.
Perhaps you are thinking about coming home, or you want to work in Ireland? Andrée can bring you up to date and help you identify what skills you might need.
"But I have a family and financial commitments – I can't think of changing career!"
Andrée never loses sight of the fact that a career decision is rarely made in a vacuum. She helps you identify how you would like your personal life to link in with your work, and your work to link in with your personal life. She takes a holistic approach, making sure that each area of your life is balanced.
How we can help you: