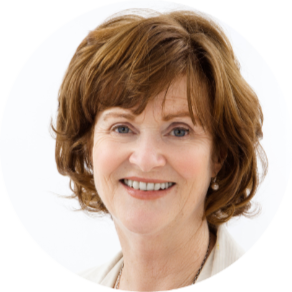 Andree Harpur
B.A. H.D.E. D.C.G. M.A. CMICGI

People and their potential have fascinated me throughout my professional life. My clients want to bring change into their lives in order to make them more meaningful, happier. I have spent thousands of hours with people of all ages, exploring their natural potential and planning how to bring this into their lives and into their careers. I would love to do the same with you!
Andrée Harpur and Associates is one of Ireland's most respected and longest established career consultancies. I have had the opportunity to work with individuals and groups at every stage of the career guidance process, throughout Ireland, Europe, the United States, Canada and the Middle East.
Our Career Assessment System, which is the result of many years of experience and knowledge, makes it possible for you to access your natural strengths and ability and to apply these to a career you love.
I am a member of the Institute Guidance Counsellors and a Masters graduate of University College Dublin. We use Psychometric Testing recognised by the British Psychological society.
My wide Corporate experience, working with major banks, insurance companies, government agencies and the national media is very exciting and constantly inspiring.
I have also have the privilege of lecturing in Career Guidance in University and training wonderful Career Counsellors who now work with so many people in so many different areas.
Writing two books on the subject of Career Guidance was tremendously fulfilling and exposed me to a whole audience I would never have had the pleasure of meeting otherwise.
It would be a pleasure to use all of this experience to help you unlock your potential and use it in an exciting way in your life.
University Lecturer
2000- 2010 As a Lecturer in University College, Maynooth, Co Kildare, Andree trained hundreds of Career Guidance practitioners.
2010 – 2015 Andree joined the staff in Dublin City University.
She was responsible for supervising students of the Masters in Career Guidance Degree.
Andree designed and presented the Career Guidance in Private Practice module as part of the Masters in Career Guidance in Dublin City University.
Publications
In 2011 Andree co-authored Sorted! This book outlined the Career Guidance System in Ireland, enabling secondary school students and their parents to make informed career decisions and to make a smooth and effective transition into Further Education.
Kite Books, Dublin, Ireland, Andree Harpur and Mary Quirke, 2011
In 1998 Andree published Work: Inspiration and Transformation. This book details the career guidance process for adults from any background. Blackhall Publishing, Dublin, Ireland. Andree Harpur. 1998
Media Participation
Andree has contributed on many occasions to national radio and television programmes.
She has also contributed articles to many national newspapers and had a regular column in one of the main national newspapers, "The Irish Times".